Do's and Dont's of The Phoenix Open 2019
Scroll down for outfits
Do not wear heels to the open.
If you want additional height, a small wedge is OK. Short booties are great. Cool sneakers are a stylish alternative, see below.
Your shoes will get dirty because of all the walking you will do. Check the forecast and dress accordingly because it could be cold.
Guys & gals- bring hand sanitizer- you will thank me later.
Your purse for the open can be no larger than 6″ x 6″ x 6″, try a fanny pack or a small Michael Kors or Rebecca Minkoff cross body bag.
Bring dollar bills to tip the bartenders in the 16th/17th/18th hole! Your pass will get stamped each time you get a drink. For people who drink lots of beers, this will help you, otherwise your stamp card will be full before the day's over. Go to the same bartender who you are tipping.
Take a minute, get a plate, sit down and eat. Make a goal to drink 3 bottles of water at least and remind your friends to drink water too.
Bring an extra phone battery pack or use a Mophie case. Due to all the phones at the open your battery will run out quickly. Put your phone on low battery mode the entire day (even when at 100%) to conserve. If you have a Mophie case, read these tips: 1) put your phone on low battery mode the minute you wake up, 2) turn off the automatic charging of the Mophie -it comes on automatically, 3) turn on the Mophie charging when your phone is at 25% or less. Using these Mophie case tips you will not run out of battery.
Have a designated meeting spot/time for your friends if you are taking a party bus, ride-share or driving, someone's phone will die and you don't want to lose them.
The McDowell Mountain Vig has a FREE party bus that will take you to The Vig after the open- think great bartenders, outdoor games and the best mac n' cheese in town. It'll be packed and so much fun, plus it's close to the open and you can avoid the uber line for a couple hours. Even if you only have one drink at the Vig and order an uber from there.
Sample 2019 Phoenix Open Outfits for Men & Women
What to Wear to the Phoenix Open 2019
Scroll Down for Men's Outfit Ideas
Bright rompers and sun dresses are always a good bet for the Phoenix Open 2019. Go for something with a floral, stripe or gingham print to keep it preppy. Let us not forget, it's a golf event!

lulus.com

lulus.com
Pair a cute sun dress or romper with white tennis shoes for a preppy look. I love my white Frye tennis shoes because they are so comfortable, and white converse are cute too.

I love how low maintenance and chic this is. Lulus.com

Pairing a denim skirt with a graphic TV and cool sneakers is very "right now" and so comfortable.

Zadig et' Voltaire sneakers are comfortable and go with more outfits than you can imagine. Some are on sale at zadig-et-voltaire.com.

If you aren't a floral/bright dresser, keep it chic with black jeans, short black booties and a cute top like this striped one from Lulus.com. The hat pulls the outfit together.

If you have a cute romper from the fall season, and tan/brown booties it's an instant Phoenix Open 2019 outfit. This romper is too short for the model in my opinion. Tobi.com has a bunch of cute rompers.

These Vince Camuto booties are great for the Phoenix Open, they're on sale right now on Nordstrom.com and are not too high. I only recommend flats for The Phoenix Open 2019 but sometimes that's not possible!

I call this look "golf wifey," it's a great outfit to wear to the Phoenix Open. To make it more flirty, you could wear a white tank or crop top underneath the sweater, and pair with blue jeans. Nordstrom.com

Another "golf wifey" type outfit. I don't love the chambray top here, I would opt for something more fitted like this at lulus.com.
Athleisure– I bet this will be a thing at The Phoenix Open this year. If you want to do it, you won't be the only one! Think black Lululemon leggings, a white crop top, cool sneakers (not the ones for running).
Now, For the Men!

A pastel shirt won't be as warm as a dress shirt. Pick a color that compliments your eyes/complexion and pair with khakis. I don't suggest a baseball hat, instead get your hair cut the week before so it looks just right for the open. Guys with blue eyes, think blue shirts, guys with green eyes try an army green shirt, and brown eyes- pink looks amazing. Kieljamespatrick.com.

This is a great look, paired with white tennis or blue/tan boat shoes. Pastel shorts are an alternative to long pants if the Phoenix Open's weather is warmer. You can also wear the pastel pants to the Polo Championship later in the year.

I do not know a lot about men's fashion, however, I know that guys who look like this at the open are on trend!
Francesca's Past Phoenix Open Outfits
My friends are more stylish than me, check out their looks too!
For The Phoenix Open 2018, I wore a Nordstrom Trend white polk-a-dot romper with Tory Burch silver "Emmy" sandals. When I say Nordstrom Trend I am talking about the less expensive section of Nordstrom, at Scottsdale Fashion Square it's on the 3rd floor. Britni, far left, her romper is still available at Nordstrom.com in red or black.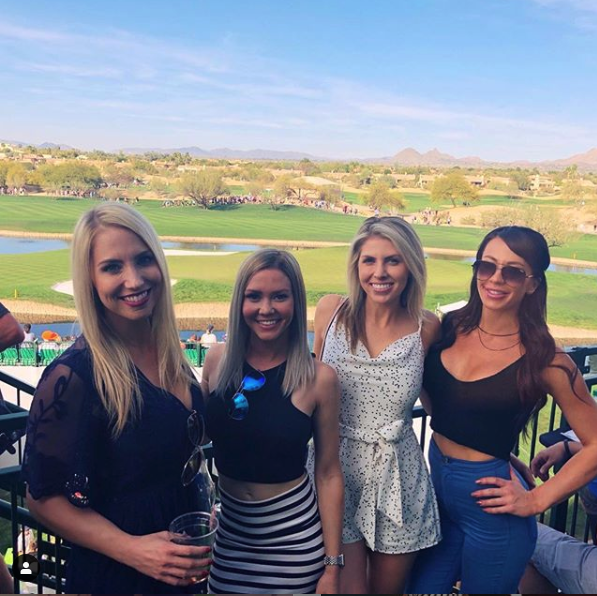 The Phoenix Open 2017 outfit was a jump suit from Lulus.com, they still have it online (click here). Lulus.com has tons of cute jumpsuits right now click here. I had to wear wedges with this.
In 2016 I wore a pair of Articles of Society white jeans, basic navy blue tank and Urban Outfitters green sweater for a preppy look. I paired the outfit with blue, green and orange Tory Burch "emmy" flat sandals. White jeans at the open are risky, if you want to sit on the grass you will be in trouble. This is a great go-to outfit you probably already have in your closet and is timeless for the open. When in doubt- white jeans.
This was the first year I went to the open (I think 2014?), I was clueless and bought these floral pants at Forever 21. I went two days, one day I paired the pants with a white Lacoste shirt and another day a flouncy basic blouse from Nordstrom. I don't suggest wearing a floppy hat to the open.
Cheers to a safe and super fun Phoenix Open 2019! Follow me on Instagram @hamiltonluxurygroup to see my Phoenix Open 2019 adventures!